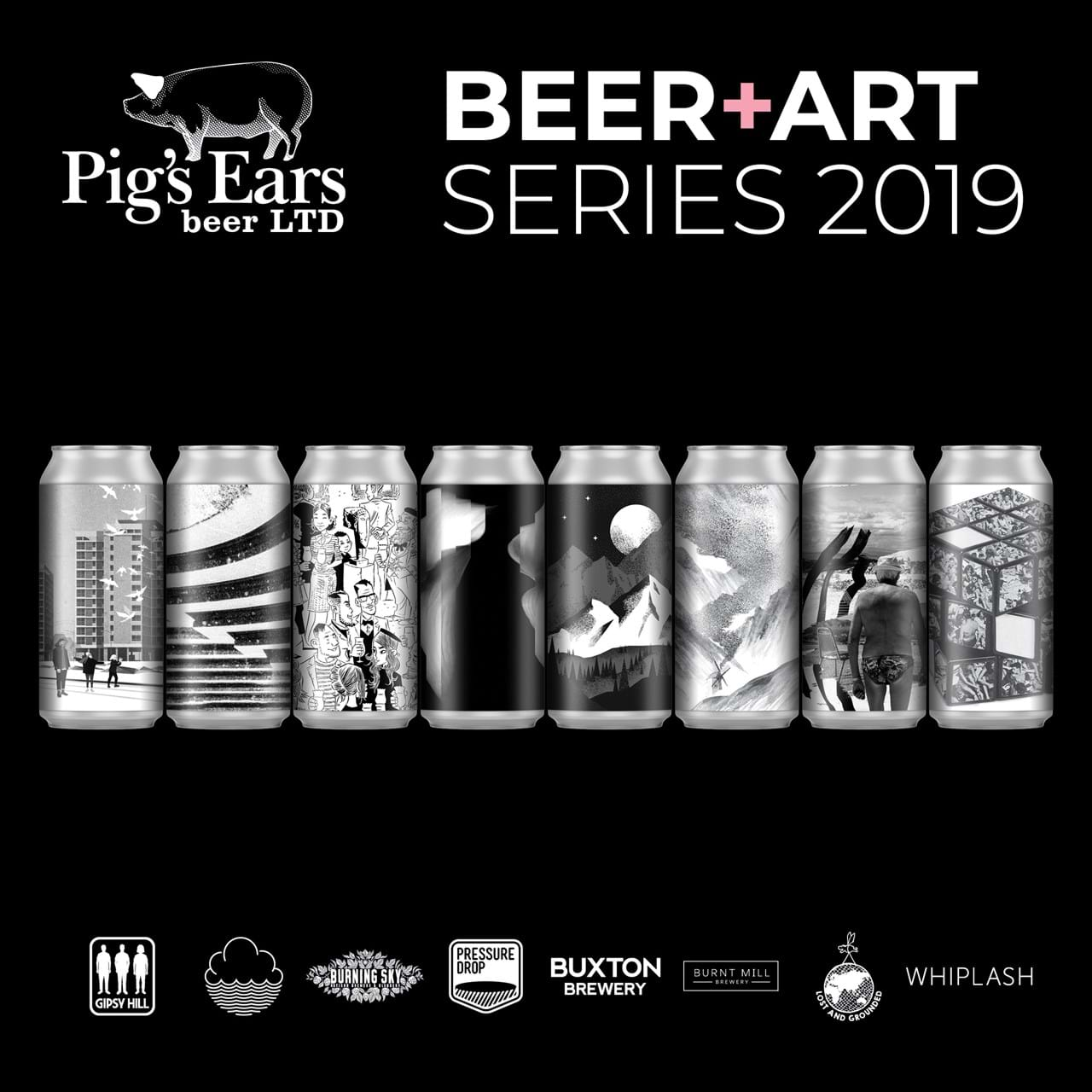 It all started when…
The concept behind the BEER+ART series was born out of the question, "their artwork is really on point these days, who is designing their cans?"

Brewery's artwork is a large part of their identity and a definite driving factor behind the success of the brands we love. They say you eat with your eyes, but there's no doubting you also buy with your eyes too, and in an incredibly saturated market place the need to stand out is obvious. In the world of "craft beer" this goes so much deeper than simply "good branding". The advent of the 440ml can revolution has provided a much bigger canvas for designers and artists to make their mark.

This series celebrates the artists behind some of the great craft beer producers in the UK. By presenting the artists creations as both branded packaging and also a piece of independent artwork we can really begin to explore how these artists use design as a marketing tool, a brand identity and as Art in its own right.

The beers aren't bad either…..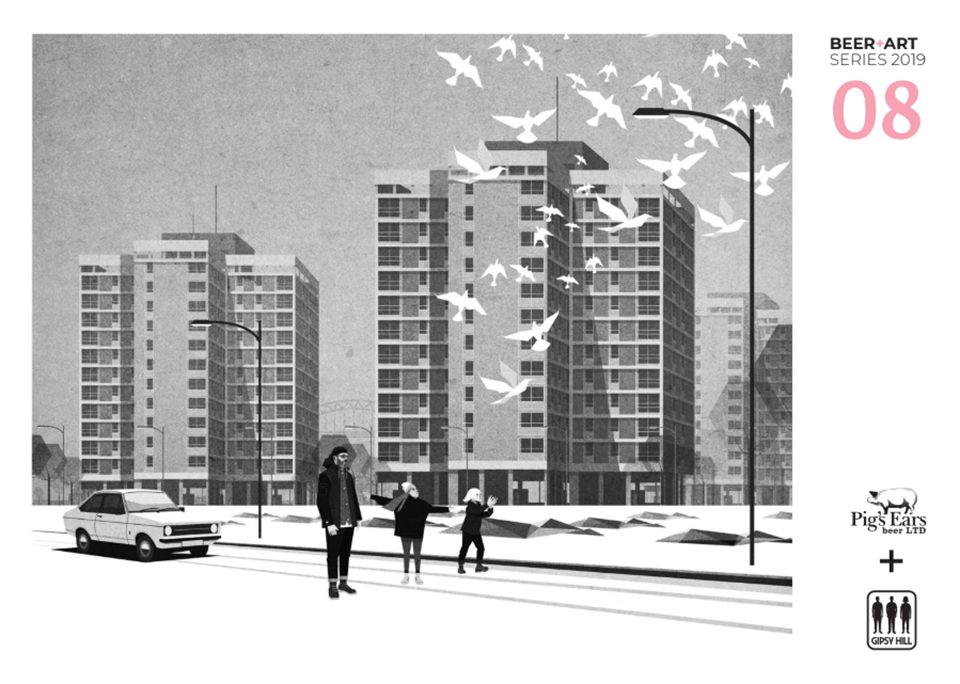 Gipsy Hill + Marcus Reed
THE ARTIST
Marcus is an award winning Illustrator and Published Author. Originally from Newcastle but spent his career in London. Starting as junior artist at Saatchi & Saatchi before turning freelance.
Working in a minimalist style, utilising geometric shapes and symmetry. Marcus has attracted clients including Harrods, BBC, AmEx, MLB, Pilsner Urquell and Gipsy Hill.
This piece is a biographical story, the backdrop a nod to his working-class roots, the car symbolises the drive behind him from parents and friends. The doves embody ideas and aspirations, encouraging his children to follow their dreams and to see where they take them. As he once did.
THE BREWERY
Nestled at the base of Gipsy Hill, in South London, Gipsy Hill brew full flavoured, moreish brews of the highest standard. Every decision they make is led by improving quality, pushing innovation and engaging with their community.
THE BEER
Gipsy Hill brewed a 4.5% fruited sour, with pink, white and yellow guava.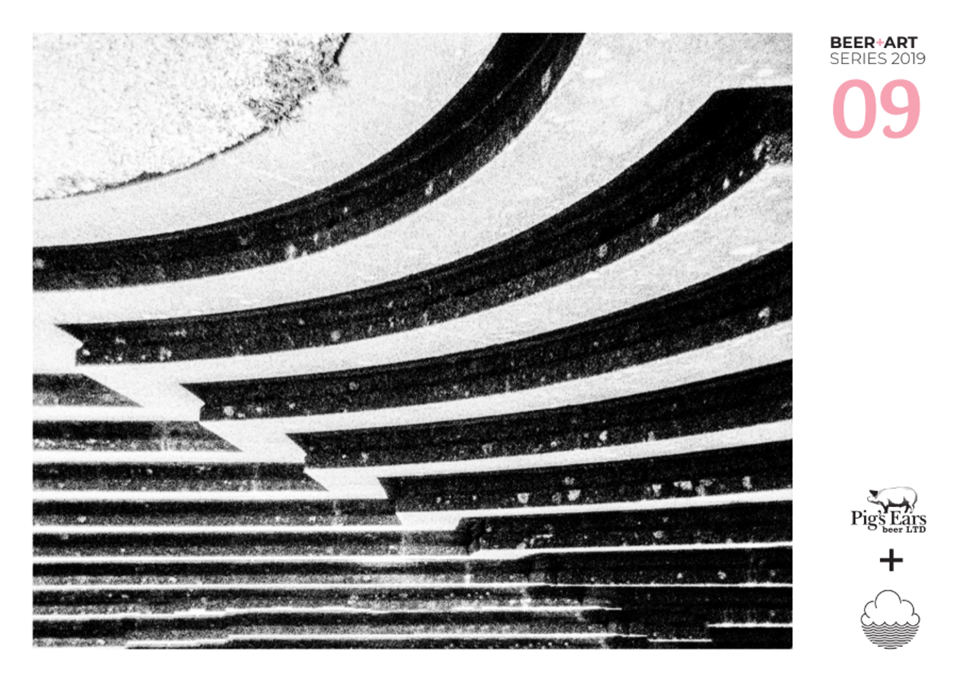 Cloudwater + Textbook Studio
A graphic design studio based in Manchester, UK, focusing on image-making, visual identity and publication design for arts, culture and education
We collect and develop textures and imagery through cameras, scanners, microscopes and mark-making, then bring these into the computer to manipulate, add or adjust colour, warp or crop to produce surprising and playful artworks.
THE BREWERY
At the heart of Cloudwater Brew Co. is a deep love for the changing seasons, each bringing with it an invitation to enjoy the scarcity and abundance the natural world offers. They take inspiration from their community, and the change of lifestyle each season, creating beer for moments with friends and loved ones, and to accompany quiet pauses and jovial conviviality as we all relax and unwind.
THE BEER
Cloudwater made a 3.5% light-bodied pale ale with flavours of grapefruit, tangerine, passion fruit and supporting resinous hop notes, with an aftertaste of juicy tangerine with low bitterness and underlying cracker malt accents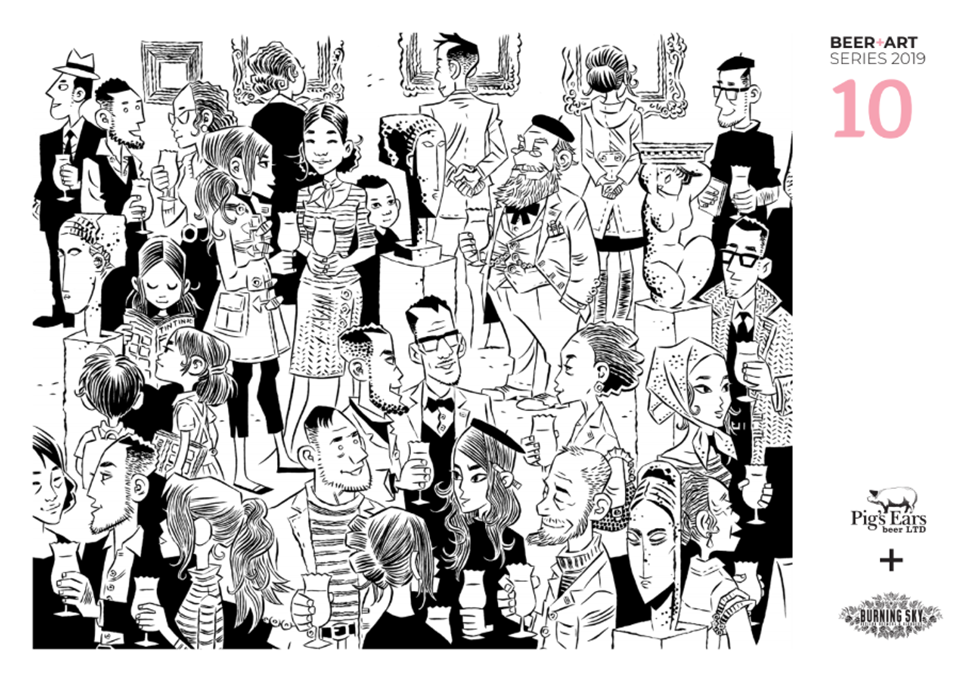 Burning Sky + Simon Gane
Simon Gane is a comic artist and illustrator based in Bristol. His trademark style can be seen within the characters and scenes that appear on Burning Sky bottle labels.
These characters are a continuation of those who appear in Burning Sky artwork, this time standing amongst the sculptures of Amedeo Modigliani.
THE BREWERY
Burning Sky, a brewers dream. The dream of a long term brewer with a love of both punchy hop forward pales and of the beautiful Belgian beer tradition. A brewers brewery, making sure that we (and you), have something refreshing to relax and dream with at the end of the day.
THE BEER
Burning Sky brewed a 6.5% crisp and bold saison beer, loaded with classic European hop varieties and light spicing for full refreshment.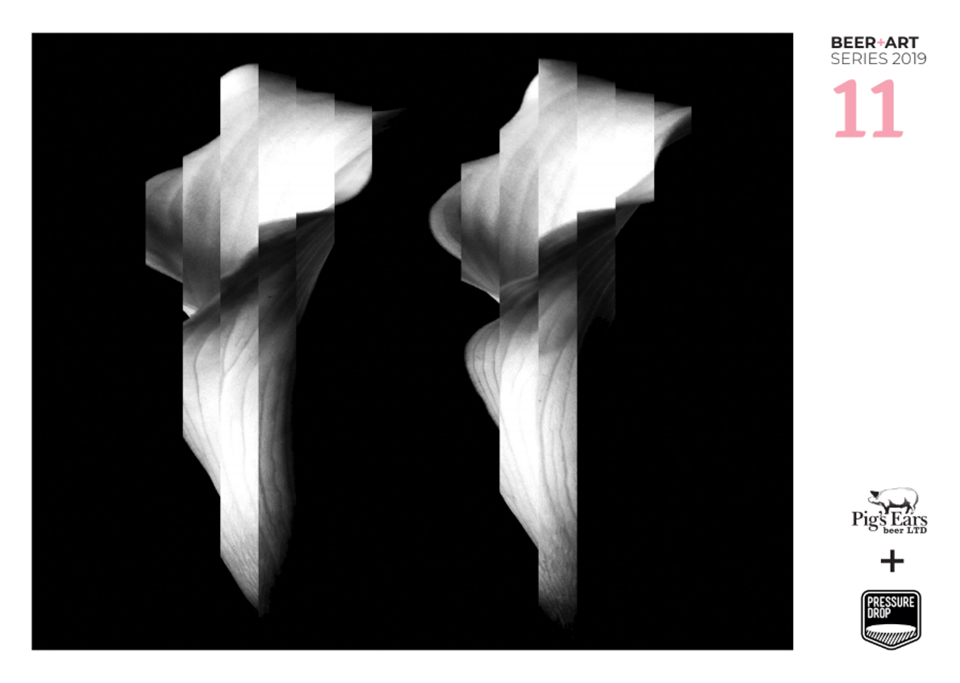 Pressure Drop + Kasper Swierczynski
THE ARTIST
Kasper Swierczynski is a Polish born multi-media Artist based in East-London.
He works with sculpture, photography, collage and moving image. Kasper's studies of colour, cubic space and floristry have led him to experiment with the isolation of nature in negative space.
THE BREWERY
Pressure Drop began life as three friends brewing in a garden shed. They now operate on a larger scale, but with the same focus on quality and innovation. They use the best ingredients to make the kind of beers they, as beer lovers, want to drink.
THE BEER
Pressure drop created a 5.5% soft and hazy New England pale which artfully deploys Hallertau Blanc and Hüll Melon hops to dank and fruity effect.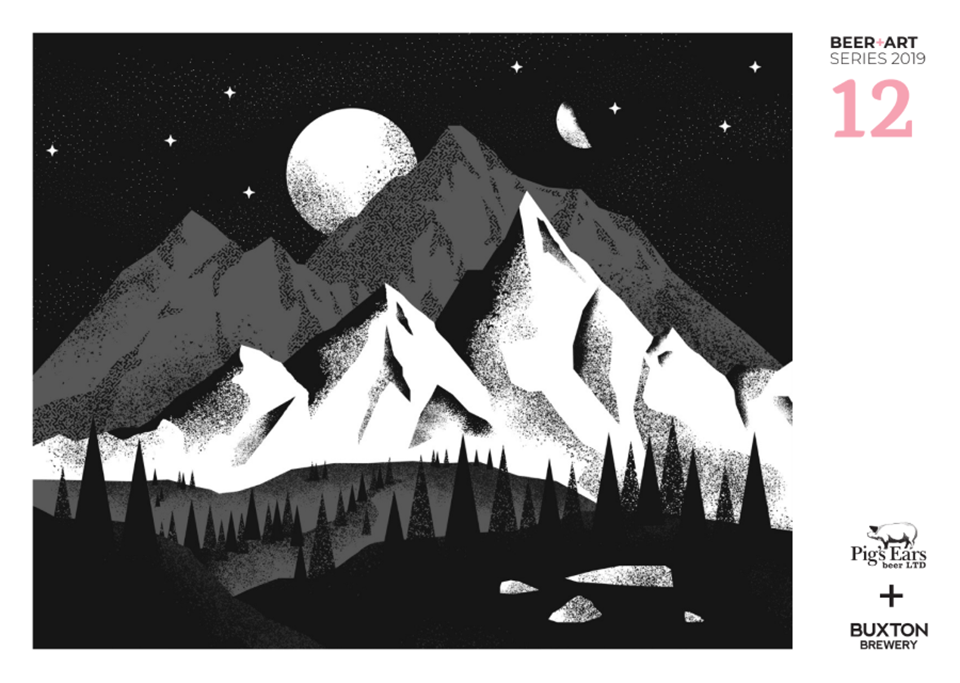 Buxton + Nick Hensley
Nick Hensley is an independent designer & illustrator living in the Pacific Northwest of the US. Nick has 10 years of professional experience collaborating with agencies and freelance clients of many crafts. He enjoys working with shape, halftone, and lots of texture.
THE BREWERY
Buxton brewery's first ever brew was mashed-in on a cold, dark January 1st 2009. The Brewhouse was the family garage and the batch size was about 40 litres. Fast-forward 9 years and the team, which has steadily grown to be 11 strong is now based in a 7000 square foot modern building on Staden Lane, Buxton.
All of the beers the brewery produces are designed to delight the senses and enthral the drinker. Not all beers are created equal, some are big and strong and full of powerful hops and malts, others are lighter, and have subtle nuances of flavour and aroma. All are intended to be enjoyed as a lovingly hand made product, nurtured by a small team of dedicated beer lovers.
THE BEER
Buxton made their first ever Breakfast Stout. Weighing in at 8% it is a thick, full bodied milk stout brewed with jumbo porridge oats, creamy sweet lactose sugar and fresh ground coffee beans.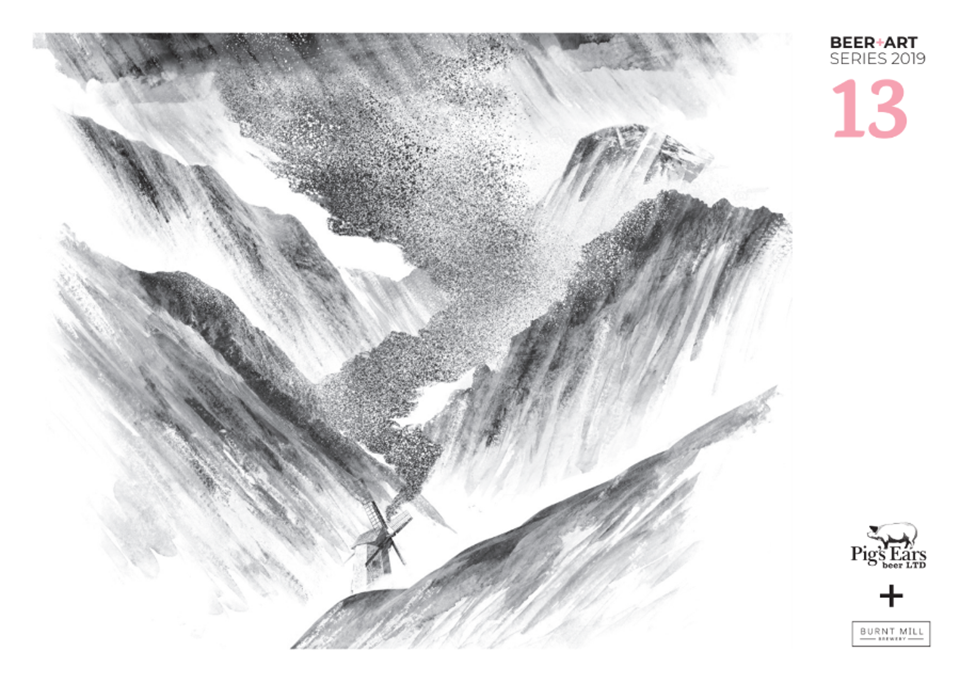 Burnt Mill + Josh Smith
Josh is a graphic designer based in London who'd been working with Burnt Mill since the brewery's beginnings in 2017. His work for them mixes paint, collage and photos to create artwork that's rooted in nature, originally inspired by the surroundings of Burnt Mill's farm setting in rural Suffolk.
THE BREWERY
Burnt Mill are focused on producing fresh, unfiltered beers from our brewhouse on a Suffolk Farm. Now heading into their third year they've grown the team from two to seven whilst maintaining their focus on quality & flavour.
THE BEER
Burnt Mill brewed a 5.4% lean East meets West Coast pale, fermented with London Ale 3 and dry hopped extensively with Citra, Mosaic, Ekuanot & Chinook for bright tropical aromatics.
Lost & Grounded + Sam Davis
Sammy is a graphic artist & art director based in Bristol. Graduating from Falmouth college of Arts he kicked off his career as a colour and texture artist for Aardman animations and has since enjoyed designing for feature films and broadcast, working on projects with Sky, ITV, channel 4 and the BBC (Sherlock).
Sammy is now freelance and works closely with Lost and Grounded brewers as a graphic designer using multiple disciples including graphic design, illustration, film and drone photography.
His artwork for this project reflects their values of being friendly and curious using images taken in Joshua Tree, El Cotillo and Kelowna, which were then manipulated using a mixture of disciplines.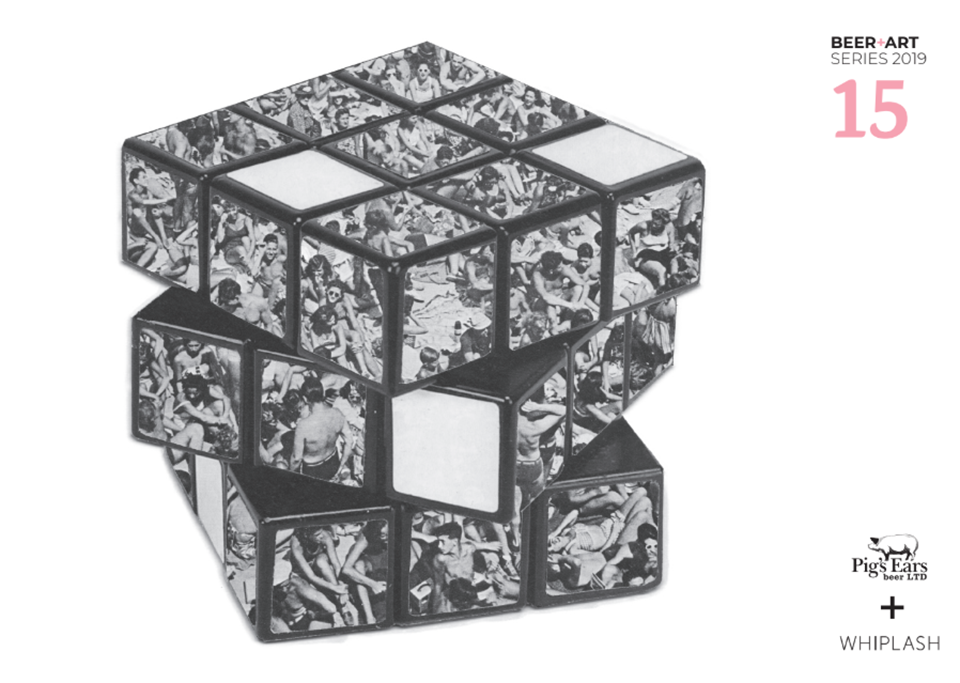 Whiplash + Sophie De Vere
Sophie is a multidisciplinary artist raised in England, who now lives and works in Ireland. With a background in art & design she currently creates within a collage and mixed media medium. She's influenced by many genres such as film photography, bygone publications and nostalgia.
From source material to the producing and creating, everything is analog and all of her artwork is cut and finalised by hand. Her artwork is caught somewhere between the real and surreal, with a nod to the past and future.This piece is entitled 'Find A Way' depicting the puzzle of finding one another.
THE BREWERY
Whiplash begun as a side project for Alan & Alex back in 2016. Both working in brewing already, they rented tanks at the weekend and released single batch small releases for fun from their own place of work and other friend's breweries around Ireland.
Professional beer dudes who were gypsying for fun. Things escalated and by the end of 2017 Whiplash was its very own pain in the neck with the guys going full time. Now brewing in several facilities in Ireland and Europe, 2018 was very much year zero for Whiplash and 2019 the year of their oncoming brewery in Dublin.
THE BEER
This is the very first beer out of Whiplash's new brewery. A celebratory 8% DDH DIPA. Piney, Zesty, Tropical passionfruit & pineapple aroma and flavour w/ a silky, fluffy and lightly sweet body. Brewed with Idaho 7, BRU 1, Azacca & Mosaic.