INTRODUCING: TURNER HARDY & Co.
BLOODY 'ELL - PIG'S EARS ADDS FRESHLY SQUEEZED TOMATO JUICE TO PORTFOLIO
We're yet to meet anybody who doesn't have an opinion on how they like their Bloody Mary. Even if that opinion is: no where near me. 
We've been on the hunt for the perfect Tomato Juice mix that takes the work out of making a Bloody Mary good enough to wipe away even the most aggressive hangover. 
That search came to an end the day we stumbled across the exciting new duo that are Turner Hardy & Co.....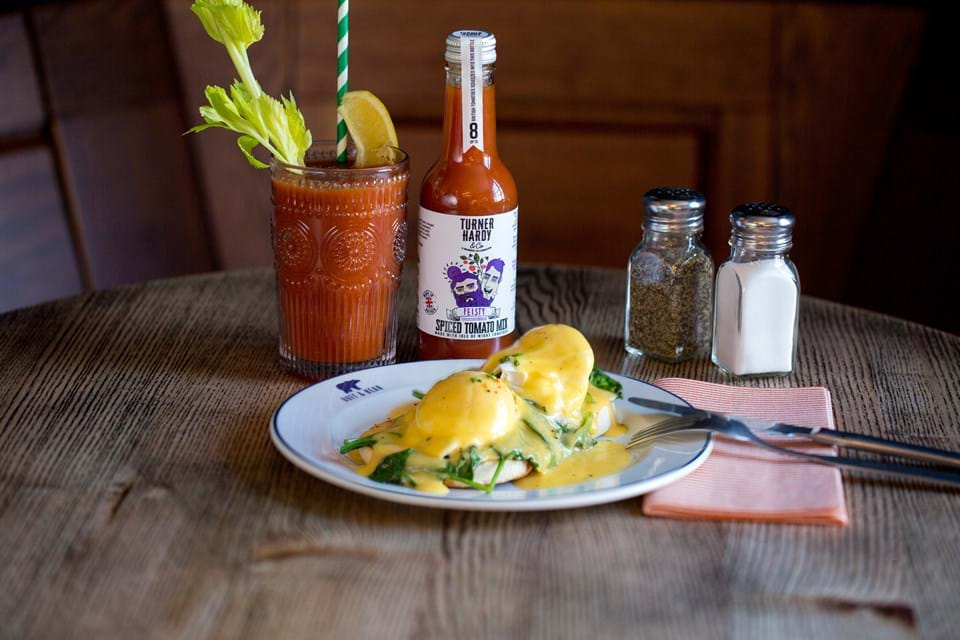 PICTURE THE SCENE....
...i'm hungover, i'm sitting down to Sunday lunch with my Mum in a cozy little pub in Winchester. I order a Bloody Mary; the only drink I can imagine that will sate my desire for something savoury, tasty and with enough booze in it to try and re-ignite the drunken embers of last nights DIPAs which have gone from that warm buzz of the evening before to the threatening loom of hungover dread. 
I have brief flashbacks to that time on New Years Day that I ordered a Bloody Mary in a pub (that shall remain nameless) in Earlsfield only to be presented with a bottle of Britvic Tomato juice, a glass with vodka and one solitary ice-cube and a bottle of Lea & Perrins. I shudder. Surely, SURELY, this MUST be better than that?
Straight off the bat i'm offered 3 different types by the waitress (who is clearly as keen on a good Bloody mary as I am) .... "Pure", "Lightly Spiced" or, what the waitress calls, "Feisty". She says this with a knowing smile that implies the latter packs a bit of a punch and, feeling a little uncertain about my decision making skills after last nights "2am 15% Impy stout" choice i decide to plump for some of that Lightly Spiced action. 
Needless to say it's delicious. Like super delicious. Like doesn't-need-anything-adding-to-it, already-the-perfect-Virgin-Mary-in-a-bottle kind of delicious. 
It comes served with a slice of lemon and a celery stick but I reckon this is more of a nod to acceptable Bloody Mary serving suggestions than it is required to impart any sort of required flavour.
My mum, older and hence more confident in her decision making skills, has opted for the "Feisty" option, which is sold as Intensely Spiced. It IS spicier, sure, but in a way that gradually coats and builds in your mouth. It's got an almost chipotle-esque smokiness to it that is both gentle and a perfect balance to the freshly squeezed Isle of Wight tomatoes that make the base of all three juices. It lingers with a bit of heat and a tingle on the lips but just enough to remind you that you're drinking a Bloody Mary - it certainly doesn't blow your head off. 
Needless to say, I contacted the company; Turner Hardy and Co to ask them about their current distribution. After realising both companies shared a common bond for quality produce and supporting independent companies we set the ball rolling for the first order.
Long story short; here they are now.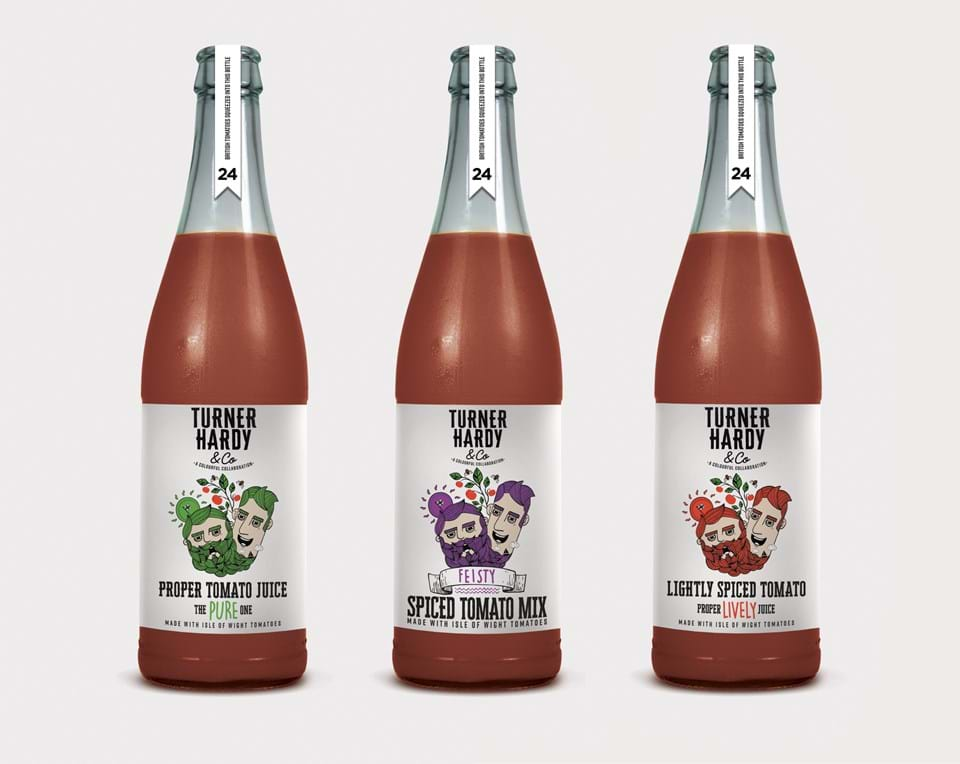 Turner Hardy & Co tomato juices are available as a permanent product through us in the below formats. 
THE LIVELY ONE
Our original concoction, lightly spiced and just perfect throughout the day whether for brunch, lunch, after a workout or just because it tastes so damn fine.
Available in 24x25cl or 12x75cl Bottles.
THE FEISTY ONE
The Feisty One … Intensely spiced … rich, rounded, pokey and consistently perfect as a damn fine virgin or Bloody Mary, Maria, Snapper. A Sunday morning dream ticket.
Available in 24x25cl or 12x75cl Bottles.
THE PURE ONE
The Pure One … celebrating the sublime taste and stewardship of the Isle of Wight tomatoes and should you wish, available for home spicing.
Available in 24x25cl or 12x75cl Bottles.
For more information on who these guys are, and what they do, check them out: HERE